High quality screen – much better than cheaper ones we have tried. Next time I think I'd go a little bit wider but very happy with quality and delivery was very fast.
The Most Cost Effective Adjustable Window Screens Solution Available
INCLUDES FREE DELIVERY ACROSS SAUDI ARABIA FOR ALL ORDERS 229ر.س+ or more (Save 99ر.س)
3 DAY APRIL SUPER SALE … Don't Miss Out
Velcro edged flexible screens – x2 great frame colours in either a standard insect mesh, with super fine midge mesh or pet mesh
Standard Mesh – suitable for all insects, flies and mosquitos
Midge Mesh – also suitable for all insects, flies and mosquitos – but has a tighter weave that will also prevent Midges (what are Midges? – click here)
Pet Mesh – suitable for all insects, flies and mosquitos and indestructible from any pet claws
Decide on the colour trim (black or white) & then order the size that is larger than the window you want to screen.
DUE TO CURRENT DEMAND
PLEASE ALLOW 5-7 DAYS DELIVERY
Order the frame size that is slightly larger than the window you want to screen – you are able to easily cut the frame to fit (with a cutting blade or strong scissors – no tradesman tools required).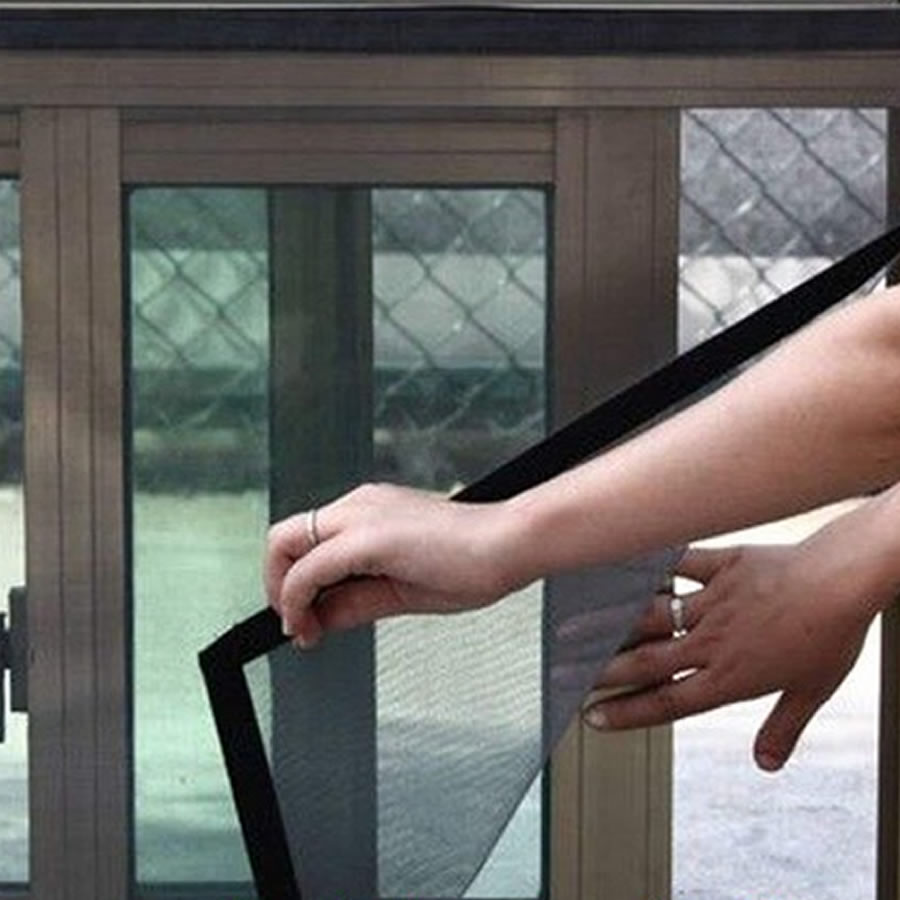 DIY Adjustable Window Screens – Functionality & Durability
Here are a few reasons why the velcro adjustable window screen is the ideal cheap flyscreen solution:-
it can be easily folded and stored away when not in use
the VELCRO® Brand fastener strips enable the flyscreen to be opened up to 10,000+ times.
they are ideal for vans, boats and motorhomes
being custom made you can custom shape and size (ie out of square window or rhomboid)
extra large windows as well as outside entertainment areas can be easily screened with ease using DIY Velcro Window Screens.
your new DIY Velcro Window Screens will arrive with simple install instructions, no tools or tradesmen needed.
DIY Adjustable Window Screens are suitable for any windows old or new and for any window type; sash, awning, casement, hopper, and slider.
Simple DIY Installation
Clean the surface of your window frame to remove any dust, grease, or oil.
Use an alcohol base cleaner as a final wipe to ensure that the surface is spotless, allow to dry.
Carefully fit the self adhesive VELCRO® Brand fastener onto the now clean & dry surface. Do so when the room temperature is 18°C or higher in non-humid conditions. If the temperature is low, warm the frame and the VELCRO® Brand fastener with a hair dryer, or fan heater in an effort to increase the bond.
WARNING: Do not pre-cut the VELCRO® strip and attach to the screen; fix directly to the window frame, one side at a time and then cut.
WARNING: Do not touch the adhesive strip with fingers, and ensure your scissors are clean and sharp.
Hold the VELCRO® fastener strip on the edges between your thumb and forefinger, & gently peel back the liner (without touching the glue) to about 25mm (1″) and place in position on the window frame.
Continue down one side of the window frame peeling back the strip liner as you go. Proceed with the other sides of frame.
Apply pressure to the strip of the installed VELCRO® fastener with a teaspoon or similar utensil.
By applying pressure this activates the 'Pressure Sensitive Glue', so it is important to pay special attention to the corners as these are often missed.
The VELCRO® fastener will eventually come away from the window frame if sufficient pressure is not applied, and if this happens it cannot be reused.
WARNING: The VELCRO® fastener cannot be re-positioned if you make a mistake. You will need to start again with new VELCRO® strips. When doing so ensure there are no traces of glue left behind and the surface is spotless again.
WARNING: Allow 24 hours for the glue to harden thoroughly before installing your screen.
DIY Adjustable Window Screens adhere to your window frame on all 4 sides by a continuous strip of 20mm width self-adhesive VELCRO® Brand fastener providing a slim and discreet appearance.